Our Awards – Vin Devers Autohaus of Sylvania is proud to hold many Awards as a Mercedes-Benz & Audi franchise
Check out some of the awards our dealership has won from both the Mercedes-Benz & Audi franchises as well as from our local Sylvania, Toledo Ohio area!!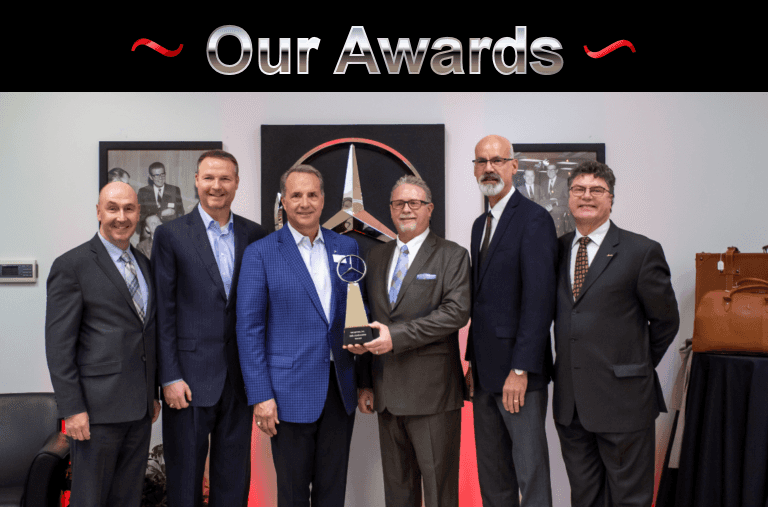 2019 CarGurus Top Rated Dealer Award!
Creating the Devers Difference everyday!
We are proud to announce that we have won the 2019 CarGurus Top Rated Dealer Award. Based on reviews from car shoppers across the country, these annual awards celebrate a select group of car dealers for their exceptional service and commitment to customer satisfaction. The winning dealers have the highest average review ratings from shoppers on the CarGurus platform. With CarGurus growing and becoming one of the the world's most trusted and transparent automotive marketplace, we are extremely proud to have received this award. CarGurus makes it easy to find great deals from top-rated dealers and provide the guidance consumers need to make a more informed purchase. It's simply taking that "one extra step" on every interaction and transaction with our clients that seperates us from all other Dealerships, and that truly is the Devers Difference.
"Video of our General Manager, Jason Perry opening our CarGurus Award"
2018 Mercedes-Benz Best of the Best Award!
Vin Devers Autohaus of Sylvania wins Mercedes-Benz Best of the Best Silver Laurel Award
Mercedes-Benz USA recognizes only the top 22 percent of its dealerships with the Best of the Best Award. The award, which is presented annually, goes to top performing Mercedes-Benz dealerships for demonstrating superior performance in various areas, including:
-Customer Satisfaction
-New Vehicle Sales
-Certified Pre-Owned Sales
-Leadership and Management
-Service and Parts Operation
Thanks to our experienced and committed staff, as well as acknowledgment from our loyal customers, we have won this prestigious award. Vin Devers Autohaus of Sylvania employs best practices to ensure that each of our clients in Sylvania, Toldeo and the Greater Toldeo area is able to enjoy the most amenable and comprehensive luxury automotive experience we can possibly offer through our #DeversDifference. Since we opened our doors in 1956 as a family owned business, Vin Devers Autohaus in Sylvania, OH has maintained a unique reputation thanks to our focus on providing customers with the best car buying experience, but the Devers Difference goes beyond the sale. We make every effort to deliver the experience after purchase by treating our customers they way we want to be treated, like family. We have been serving our customers for 50 years and just celebrated our 50th anniversary.
Our experienced team recognizes that our clientele has a set of expectations that exceeds the average buyer's. We're committed to exceeding those expectations for as long as you own your vehicle!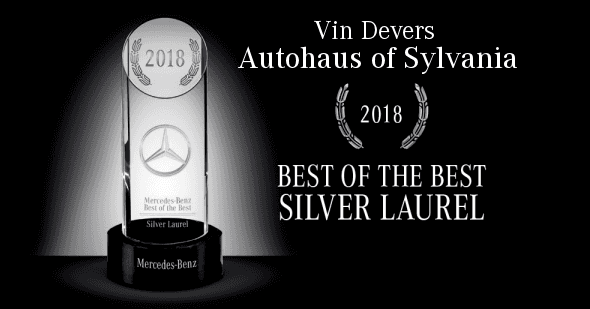 2019 DealerRater Consumer Satisfaction Award Winner!
Creating the Devers Difference everyday!
We are proud to announce that we have won the 2019 Dealer Rater Consumer Satisfaction Award. We have over 340 Reviews on Dealer Rater while maintaining a 4.8 out of 5 overall rating! This award means a lot to our dealership because it truly shows the effort, care and dedication our entire staff has for our clients. Dealer Rater does not only provide the option to leave sales reviews, it offers the options to leave a review on every department (sales, service, parts, detail, body shop, etc.) and on every employee. It's simply taking that "one extra step" on every interaction and transaction with our clients that seperates us from all other Dealerships, and that truly is the Devers Difference.
2019 marks our 50th year with Mercedes-Benz
Valentines Day, February 14, 2019 , SYLVANIA, Oh.
We have been a family owned and operated auto dealer for over 60 years. Vincent Devers got his start as a Tool and Dye maker in Toledo, Ohio. After many years of hard work, he decided to take a sales position with a local dealership. Gaining experience with several successful years in sales and management, he decided to purchase a struggling DeSoto Plymouth Dealership in Sylvania, Ohio (the Greater Toledo, Ohio area). Since then, Vin Devers Autohaus of Sylvania has been an authorized dealer for DeSoto, Dodge, Plymouth, Mercury, Lincoln, and Triumph vehicles.
On Valentines Day, February 14th, 1969 Vincent Devers signed our dealer agreement with Mercedes-Benz. Fast forward to 2019, on Valentines Day, February 14th, 2019 we celebrated our 50th year as a certified Mercedes-Benz dealership. In celebration, we hosted a beautiful party at the dealership for our family, friends and colleagues. For more information/pictures from this wonderful milestone, please click here!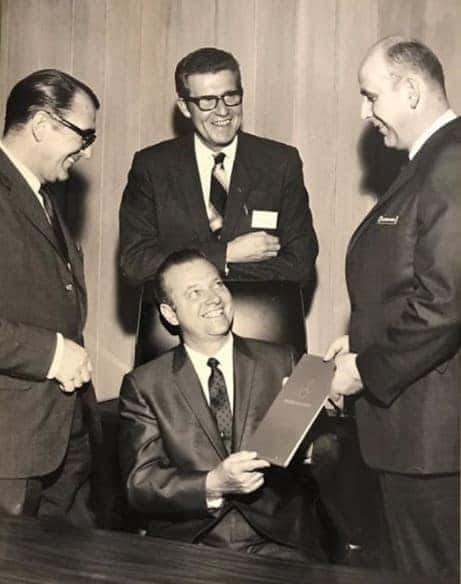 "Vincent Devers signing our Mercedes-Benz dealer agreement in 1969"
Audi Sylvania Wins Audi Magna Award
Mar 13, 2013 , HERNDON, Va.
Audi recognizes 114 dealers with 2012 Magna Society awards
Magna Society program honors the best of the best among all U.S. Audi dealers
To earn the award, dealers must meet customer and business objectives set by Audi
The recognition fits alongside growth of Audi exclusive dealerships in the U.S.Audi identified its top performing U.S. dealerships throughout 2012, a year that saw the brand and its retail partners post record-breaking sales results.
In all, 114 Audi dealerships earned the 2012 Magna Society recognition by providing superlative customer service while achieving strong overall business performance. Audi also recognized 11 dealerships as 2012 Audi Elite Magna Society winners, signifying their standout performance as the best of the best.Audi established the Magna Society to recognize U.S. dealerships that stand out as top performers. To qualify, dealerships cannot just meet or exceed sales targets. They must also demonstrate they are maintaining a solid financial foundation, merit high customer satisfaction scores and show their facilities and staffs represent the progressive Audi culture.
"At Audi, we are constantly improving the customer experience each time a consumer interacts with our premium brand," said Mark Del Rosso, EVP and Chief Operating Officer, Audi of America. "With the annual Magna Society awards, Audi celebrates U.S. dealers who have advanced their goals while maintaining a thriving business model."
The annual Magna Society awards fit with long-range plans established by Audi and its franchise partners to make Audi facilities more exclusive. In 2012, the number of dealership locations exclusively selling Audi models increased by the end of the year to 156 in the U.S. from 15 dealerships operating in 1999. In the same year, Audi also increased its share of the U.S. imported luxury car segment to 9.7% based on record annual U.S. sales of 139,310 units.
Vin Devers Autohaus of Sylvania's 40 years with Mercedes-Benz Award
Certified Mercedes-Benz Dealer from 1969-2009 Award!!
American Cancer Society: Relay for Life Award
Audi A8 "BIG GAME" Top Performer Award
Audi CPO Fastest Lap Winner Award
2016 Mercedes-Benz Pre-Owned Sales Award
January 2016, Vin Devers Autohaus of Sylvania Used Car Superstore received this MailGram from Mercedes-Benz for achieving the most Pre-Owned Mercedes-Benz Sales for our Market!!  The MailGram reads: "Congratulations to Vin Devers Autohaus of Sylvania Pre-Owned Sales Team for achieving the #1 Position in Pre-Owned Mercedes-Benz sales for your market.  This, coupled with achieving the #6 spot out of 400 dealers in customer satisfaction rating, is truly an amazing accomplishment.  2016 will truly be a great year, especially with Vin Devers Autohaus celebrating their 60th Anniversary!!  Sincerely, Mercedes-Benz Central Region Report"