Mercedes-Benz Electric Vehicles in Accelerated Development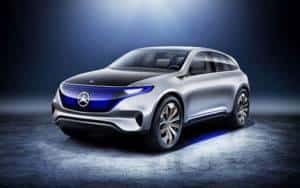 The buzz is out! Daimler has recently announced it will bump up the release of ten Mercedes-Benz electric vehicles to 2022—meaning an exciting, option-rich electric lineup will be available sooner than expected. Originally, Mercedes-Benz's Generation EQ concept was the first stage in a plan to deliver ten new EVs by 2025. By accelerating development, Mercedes-Benz aims to prove that the EQ electric lineup is poised to dominate the field.
Origination
During the preview of the electric EQ concept SUV in 2016, Mercedes-Benz announced its goal of adding ten new EVs to the lineup by 2025 under the EQ electric umbrella brand, with the first one coming to market in 2020. Now, only a few months later, the luxury German brand has accelerated its development of the EQ EVs, cutting the timeline by three years. Aggressive and ambitious? Yes. Innovative and exciting? Yes, again!
The EQ Portfolio
Mercedes' Benz's EQ sub-brand will include all battery-electric cars, plus other products and services that complement them. Some examples: charging wallboxes for residential installations, stationary energy storage units that harness alternative power sources, and a free smartphone app called "Charge & Pay," which facilitates recharging at convenient public stations. By bundling EVs, add-on products, and related services, Mercedes-Benz is mapping out a future where the brand is a solution for mobility and modern lifestyles.
The Trend
With all of the changes that the automotive industry is experiencing, including emissions scandals and environmental regulations, mainstreaming EV technology within the Mercedes-Benz brand could be happening at the ideal time. Customers are embracing electric and hybrid vehicles, both for "green" reasons and the flexibility of new technologies. Mercedes-Benz electric cars aim to be at the forefront of these fast-paced innovations and a greater transformation of the industry.
An Electrifying Future
The idea of ten new Mercedes-Benz electric vehicles isn't just exciting. It also creates an environment that's responsive and ready for the sweeping changes in the automotive industry. Best of all, customers are the winners. There's a lot to learn and understand about all these new developments, and Vin Devers Autohaus of Sylvania is just the place for you to find experts who love to talk about everything that's happening. Stop in and see us anytime, or feel free to contact us online!